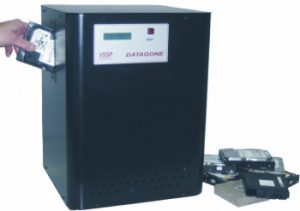 Key Features:
Single Pass Automatic Operation
Over 250 drives erased per hour
Complete erasure of hard drives and tapes
Processor Controlled operation for Failsafe erasure
Effective on Longitudinal & Perpendicular Hard Drives
It is a fully automatic degausser for Hard Drives and Backup Tapes. It uses pulse discharge technology and is fully processor controlled which enables it to offer a complete and secure erase on magnetic media. Media that can be degaussed includes Hard Drives that use both perpendicular and vertical recording techniques and most common backup tapes including DLT, LTO, 8mm, DDS and more.
Performance
It generates a powerful magnetic field and in less than a second completely erases the complete data from Hard Drives and Backup Tapes. Its simple one pass fully automatic operation makes it ideal for businesses where security is of the utmost importance.
Operation 
It is a fully automatic table top mounted unit. With the degausser powered up, the operator simply slides the hard drive into the aperture on the left-hand side of the unit. The unit senses the presence of the media and the degaussing cycle starts automatically. No operator action is required.
When the degaussing cycle is complete, the hard drive is released and exits from the degausser on the right-hand side. Throughout the entire degauss cycle the onboard processor monitors the procedure and progress messages are displayed on the LCD panel.
If the degauss cycle is interrupted for any reason such as power loss or any fault condition, the media is retained in the Degausser and the operator is immediately alerted to the interruption in the erasure cycle on the LCD panel.
To eject media when the cycle has failed for any reason the operator has to press the reset button. This releases the Hard Drive or Tape and resets the degauss cycle. The operator should then attempt a repeat erasure. The entire erasure process takes approximately 8 seconds.
Who Recommends Hard Drive Degaussing?
National Institute of Standards & Technology
Department Of Defense
GCHQ (British Government)
Note: After degaussing, hard drives should be not be reused as they are stressed in the erasure process.
Some backup tapes may not be reusable after degaussing due to the servo track being erased.
SPECIFICATIONS:
Media Handling:
3.5″, 2.5″ & 1.8″ hard drives.
Longitude & perpendicular (Up to 3TB)
DLT, S-DLT, LTO1, 2, 3 & 4
3480/3490/3490e, 3590, 9840 & T9940 tape
Ultrium & Redwood SD-3 tape & cartridges
Mammoth 1 & 2, 8mm
AIT1 & 2,M2 tape
DDS 1, 2, 3, 4 & 5 DD-2 & DFT-1 & 2
Power Supply:230V AC 50Hz / 115V AC 60Hz
Current Rating: 50Hz 5 Amps, 60Hz 9 Amps
Gauss Force:10,000 max gauss
Cycle Time: 8 seconds typical
Display: Liquid Crystal Display (LCD)
Dimensions (WxHxD):14.3" x 14.3" x 19.2" (362mm x 362mm x 487mm) Unit
Weight: 63.8lbs (29kgs)
Packed Weight: 74.8lbs (34kgs)
Throughput: 200 hard drives in one continuous session or up to 275 hard drives per hour
Controls: On/Off Power switch, Reset button