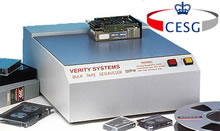 Key Features:
CESG & NATO approved
Suitable for most media formats
7000 peak gauss field
Simple and quick to operate
Cost effective secure erasure
3 yr warranty-upgradeable to 5 yrs
FREE technical support
This degausser for High Coercivity Tape is designed to erase a broad range of magnetic media, including high-density metal tapes and PC hard disk drives.
The North Atlantic Treaty Organization (NATO) has approved this degausser for security erasure applications.
It is fast, taking as little as ten seconds to completely erase a cassette. It's simple to use and provides a thoroughly effective and low-cost means of degaussing DLT, DAT and other high coercivity tapes.
In addition to its NATO approval, it has been approved by the UK government and meets specified requirements of SEAP (Security Equipment Assessment Panel) and the newer CESG standard for restricted or less for the secure erasure and destruction of information and data stored on magnetic media up to TOP SECRET level.
Specifications:
Media Handling:
Hard Drives

3½" and 5¼" PC (up to 1 TB)
DLT Tapes

Super DLT I, II & III
DLT IV-VSL,
S-DLT
LT01
LT02
LT03
LT04
LTO5
9840
9940
Other media erased

½" Computer Tape
Diskettes – single/boxed
DC 600, 2000
TK50, 70, 85, 3480/3490E/3590/3590E
4mm
8mm
Exabyte
Travan
DLT
DAT
ZIP Disk
Ultrium
Power Supply: 220 ~ 240v 50Hz / 110 ~ 115v 60Hz
Current Rating: 9 amps typical (50Hz) / 12 amps typical (60Hz)
Degaussing Force: 7000 peak gauss
Erasure Depth: -75db on 1500 Oe tape
Duty Cycle: Non-continuous
Dimensions (WxHxD): 16.5" x 6" x 19" (420mm x 150mm x 480mm)
Weight: 77lbs (35kg)
Throughput:
20 hard drives/DLT tapes per hour typical
40 VHS cassettes per hour typical
Controls:
Indicators:
On/Off Erase field
Coil power supply warning light