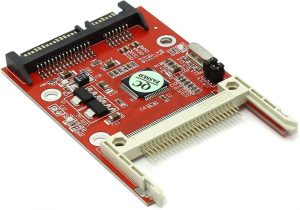 As an advanced addition to our popular IDE-CF adapter, this SATA-CF adapter is one of the fastest CF Readers/Writers in the market today. Connect directly to the fast SATA port, this adapter supports direct booting from the CF media as well as hot swapping* of the CF media without restarting the system. Comes bundled with 3.5″ bay bracket, a standard height and a low profile PCI slot mounting brackets, the SATA can be installed practically into any system. The versatility and the fast performance of this adapter make it an ideal CF read/write device for many industrial PCs, embedded systems or various vertical applications.
Key Features
Compatible with CFI/II and Micro Drive
Supports connection to Port Multiplier or Hardware Port Multiplier
SATA or SATA II interface
LED indicator for both power and data access
Mount in a standard height PCI slot, low profile PCI slot, standard 3.5″ drive bay (or 5 1/4″ drive bay with optional bay converter, AAMK53)
Choice of black or ivory colour bay bracket
Supports DMA and Ultra DMA modes. A compatible flash media card will be required to use these modes.
Bootable*
Hot-swappable**
Compatible* with DOS, Windows 3.1, NT4, 98SE, Me, 2000, XP, Vista, Mac, Linux
*while the SATA to CF Adapter is known to be bootable, only certain types of CF cards will be capable of booting off this adapter. A Transcend 2GB Industrial Compact Flash with UDMA Fixed Disk Mode feature was used to do a fresh install and tested to successfully boot Windows XP Media Center 2005 under 40 seconds.
**hot swap function depends on the SATA controller. Some early SATA controllers do not support hot swap. Please confirm with your controller supplier. If you need to add a SATA controller, we recommend using one of SATA controllers of which are all based on Silicon Image chipset.