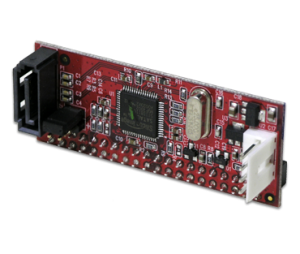 The IDE-Serial ATA (SATA) converter is the most cost-effective solution for converting standard IDE and ATAPI devices to the new SATA interface standard. Designed to mount easily behind the back of any IDE hard drive and ATAPI devices such as DVD-R/RW, CD-RW, DVD-ROM, the IDE-SATA converter can also mount onto the Combo Hard Drive desktop drive cradle and a growing list of internal devices. Coupling with SATA PCI host controller, adding SATA to any desktop computer is easy and affordable.
Building a hot swap drive system using a Mobile Rack
To build a hot swap removable drive system, the power to the converter must be able to shut off when the Mobile Rack is turned off. This will trigger a message to the OS to dismount the drive. To implement this feature on any IDE Mobile Rack, be sure to use the special 2-pin to the floppy power cable, that comes with the package, to connect the converter power to the small 2-pin output power on the back of the Drive Cradle (the tray that mounts inside the drive bay).
For Mobile Rack from other manufacturers, you need to wire the power cable from the converter to the 5V power inside the drive cradle. Contact your Mobile Rack supplier for the 5V power connection information.
Product Features 
Serial ATA 1.0 and 2.0 compliant
Convert any IDE hard drive and most ATAPI devices to Serial ATA device
Support ATA 33/66/100/133
support large hard drives of 137 GB or larger with one partition
Bootable
Hot swap – the device can be removed and added without system shut down or restart
simple plug and play, no drivers required
Compatible with any Serial ATA controller (ATAPI device may only work with host controller using Silicon Image Chipset)