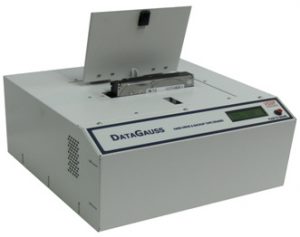 Operation
This is a table top, chamber degausser, making operation safe, effective and simple for everyone. Operators simply slide the catch and the lid lifts up automatically. Place the media into the media compartment and close the lid. The erase cycle is started by pressing the 'erase' button on the control panel which activates the charging of the powerful degaussing magnetic field. When the display says the degauss cycle is complete the lid can be opened and the media removed. The entire process takes just 45 seconds.
Throughout the whole erase cycle the onboard processor monitors the erase procedure ensuring that it is completed correctly. The operator is immediately alerted to any interruptions in the cycle by messages on the LCD control panel.
Safe & Secure Operation
With safety in mind and to meet the latest ICNIRP Magnetic Exposure Guidelines, the field discharge duration is less than a second and the magnetic field is designed to be concentrated inside the chamber.
Who Recommends Hard Drive Degaussing?
As part of their guidelines for the sanitization of magnetic media degaussing is recommended by the following organizations:
National Institute of Standards & Technology
Department of Defense
Government Security Organizations
It is designed to help you comply with the following Government Mandates that require destruction of sensitive information stored on Hard Drives and Backup Tapes before their disposal.
• PCI DSS (Payment Card Industry) Data Security Standard • PIPEDA (Personal Information Protection and Electronic Documents Act) • NIST (National Institute of Standards and Technology) Guidelines for Media Sanitization NIST SP 800-88 • NIST (National Institute of Standards and Technology) Guidelines for Media Sanitization NIST SP 800-36 • Gramm-Leach-Bliley Act (GLBA) • HIPAA (Health Information Portability and Accountability Act) • California SB-1386 • IRS-1075 • CJIS
Who uses the Degausser?
Banks
IT Departments
E-Recyclers
Corporate
*Note: After degaussing, hard drives should not be reused as they are stressed in the erasure process. Some backup tapes may not be reusable after degaussing due to the servo track being erased.
SPECIFICATIONS:
Media Handling:
3.5″, 2.5″ & 1.8″ hard drives
Longitudinal & perpendicular recording
DLT, S-DLT, LTO1,2,3,4 & 5; 3480/3490/3490e, 3590, 9840 & T9940 & T10000 tape
Ultrium & Redwood SD-3 tape & cartridges
Mammoth 1 & 2, 8mm, AIT1 & 2,M2 tape
DDS 1, 2, 3, 4 & 5, DD-2 & DFT-1 & 2
Media Compartment: 5.9″ x 1.2″ x 4.3″ (150mm x 30mm x 110mm)
Power Supply:
230V AC 50Hz Unit Dependable
115V AC 60Hz
Current Rating: 50Hz 2.5 Amps, 60Hz 4 Amps Typical
Gauss Force: 9,000 max gauss
Cycle Time: 45 seconds typical
Display: Liquid Crystal Display (LCD)
Dimensions (WxHxD): 13.9″ x 9.2″ x 14.3″ (35cm x 23cm x 36cm)
Unit Weight: 46lbs (21kgs)
Packed Dimensions (WxHxD): 18.5″ x 13.4″ x 18.5″ (47cm x 34cm x 47cm)
Packed Weight: 50lbs (23kg)
Throughput: 70 hard drives/cartridges per hour typical
Controls: On/Off Power switch, Erase button